October 2019 Spotlight on Waist Aprons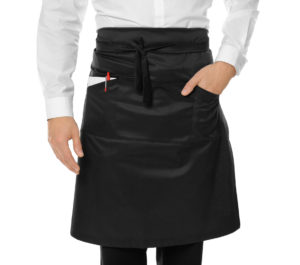 This October 2019 spotlight on waist aprons is ideal for many restaurants and catering venues.  These uniform essentials are very common (and popular) because they are so versatile.
Did you catch Bergen Linen's August newsletter?  On the back cover, we gave a quick look into an apron's history.  (If you missed it, please feel free to email info@bergenlinen.com. We would be happy to email or send you a copy!)  And if you aren't receiving our newsletters, be sure to sign up by commenting below or emailing today!  You will be happy you did!
This month, we are looking at Waist Aprons.
As you may have guessed, waist aprons start fittingly…at the waist. While they do not offer any upper body coverage, this style is still popular in many establishments.
Quick Facts
Range from 11" to 34" long
Perfect for bartenders and servers*
Typically polyester or a cotton blend
With or without pockets available
*Medium and longer waist aprons  (also called bistro aprons) are often worn by chefs. While maintain their status with their chef coat, they can protect their pants from splashes.
Interested in team aprons or other linen services? Bergen Linen also provides uniform rentals for you and your team.    Would you be interested in speaking to a team member today?  Give us a call today at (800) 789-8115 or email info@bergenlinen.com