July Six Feet Social Distancing Update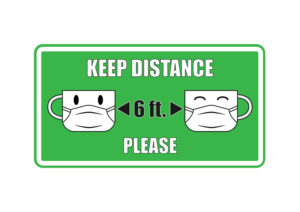 Bergen Linen's July six feet social distancing update!  While indoor dining has to wait a little longer, the food and beverage industry can still continue to improve and prepare.
Recently, New Jersey and Manhattan put a pause on indoor seating.  However, many venues and restaurants have already taken steps to increase (or introduce) outdoor dining, delivery and take-out.
Re-Introduction Tips
Bergen Linen's custom (with your logo) "Reserved" tent cards. Properly social distance tables without the hassle of removing. (Clients may request complimentary cards.)
Linen placemats.  If you are not interested in tablecloths, consider linen placemats as an easy and affordable alternative.
Linen tablecloths. Have you already used tablecloths in the past? Then, this is the time to take a look at your 'new' needs due to limited capacity.  New to table linens?  Through research, we see that guests align tablecloths to a higher level of service and better quality.
Cleaning and sanitizing.  When you need us, we will be there for your special in-depth cleaning and sanitizing needs.
In addition to these linens, Bergen Linen also provides bar mops, floor mats, uniforms, aprons and more.  Each business has it's now needs.  Therefore, our team encourages you to call (800) 789-8115 or email info@bergenlinen.com.  Let's discuss your options together.