August 2020 Uniform Check-In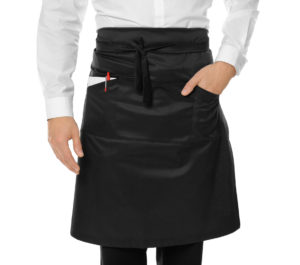 This is your August 2020 Uniform Check-in from your friends at Bergen Linen!  The last few months have been incredibly hard on our local Food & Beverage Industry. From caterers to restaurants (at every price point), businesses have had to adjust – or close completely.
As we navigate the next few months together, please know that Bergen Linen is here for you.  During the lockdown, the Bergen Linen team remained available to any local business in need of aprons, bar mops and more.  It was (and is) our responsibility and privilege as an essential business.
Currently, it seems that there is this holding pattern with outdoor dining.  Even though it may not be the same experience, dining out should still be an experience.  Your team should be looking and feeling their very best.  With all the outdoor serving, you may wish to consider lighter apparel to accommodate the heat.  Bergen Linen offers various chef wear including pants, jackets and more.  For your host/hostess and server wear, we also offer additional items. Call (800) 789-8115 and speak with one of our team members today.They can walk you through our collection.  And don't forget your aprons and bar mops!