September 2020 Dining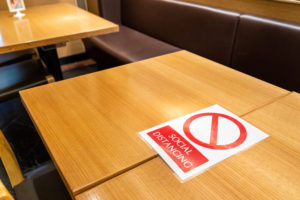 September 2020 dining experience looks a little different.  Over the last few weeks, New York restaurants have been preparing for this week's reopening of indoor dining. Meanwhile, our neighborhood (New Jersey) friends are past the the 'test period'.
The lowered dining capacity means indoor adjustments. Here is how some businesses are handling it:
Seating at every other table*
Removing half of the tables
Promoting diners to pre-order
Installing plastic dividers
*Bergen Linen customers can request custom (with your logo) "Reserved" tent cards. They provide discrete socially distancing.  If you are a current client, please ask your Bergen Linen representative for yours today. Call (800) 789-8115 or email info@bergenlinen.com.
Did you know that restaurants using tablecloths are perceived as a higher level of dining. Diners equate this to better customer service and quality of food.  In addition, they add a secondary level of protection.
What's really great about table linens are that they are affordable, easy to rent and look great. Sounds like a win-win…win to us! What about you?
With Bergen Linen, you may choose from our selection of tablecloths, napkins (including bistro), uniforms and more.  Consider us your one-stop shop for all your linen essentials. Therefore, September 2020 dining starts with Bergen Linen.
Also available are our cleaning and disinfecting services. While nobody wants to think about the worst case scenario, isn't it nice to know that you have someone to call?  Bergen Linen's team of experts will respectively disinfect your business.  Fortunately, there is no harmful residue left behind so you can get back to business right away.
Call today and see how we can help.