Planning for a New Year and a New Strategy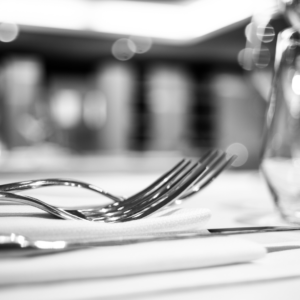 Planning for a new year and a new strategy? 2020 has been a long, tough year.  We think it is safe to say that nobody went through this year unscathed. From worrying about your loved ones to adapting to executive orders, many were left simply doing their best – in a 'new world'.
Throughout the pandemic, there were restrictions in place. This created a need for new strategies such as introducing take-out, joining food delivery platforms, adjusting out door dining space and more.  While adapting, you also most likely cut corners and re-evaluated the necessities.
As a Food and Beverage vendor, we have been here with you along the way.  Over the months, the Bergen Linen team kept on top of the latest news. We wanted to understand the industry's needs and adapt as well.  This led to additional offerings including linen placemats, disposable PPE, sanitizing items and more.
Additionally, we have created a customizable "Starter Package".This is ideal for businesses that require a very basic weekly order consisting of items such as floor mats, bar mops and aprons. Interested? Call (800) 789-8115 or email orders@bergenlinen.com.
In the new year, you should start off on the best foot possible. Choose vendors who keep you in mind.  Bergen Linen appreciates our Food and Beverage friends.   We understand that you are a vital part of our community.  Allow us to help you transition to the upcoming phases of truly welcoming guests back.
Studies have shown that diners perceive covered tables as part of an enhanced (and sanitary) experience. If you prefer, linen placemats are an alternative option. Hand sanitizing stations and other safety protocols put in place are comforting to both guests and your team. Offer your team uniforms to ensure items will be cleaned and sanitized prior to every use.
Linen services can be affordable – and worth the money. It is all in who you trust. You can trust Bergen Linen to be the best value around. Find out WHY BERGEN LINEN. Call (800) 789-8115 or email our team at info@bergenlinen.com. And don't forget to follow us on Instagram. We love to give community friends support on social media.