March 2022 Outdoor Dining Essentials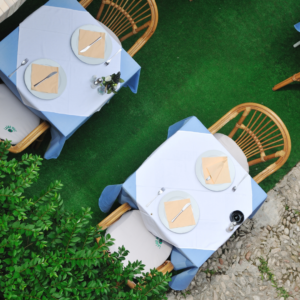 Let's review your March 2022 outdoor dining essentials! And fortunately, New York and New Jersey keep revisiting the indoor and outdoor restaurant capacities.  This means, you can welcome even more diners back.
While the weather is warmer, there is still a chill in the air.  With this in mind, Bergen Linen's blanket rentals would be a perfect delivery addition.  And no commitment. You can simply add blankets as-needed to your weekly service.  Like you, we are waiting for those continued warm weather weeks – and no blankets needed!
Free Pick-up and Delivery Rentals
Table linens
Napkins
Floor Mats
Bar Mops & Towels
Over the last year, the Food and Beverage industry certainly had its challenges. At some points, we were at a standstill – like many of you. However, we feel lucky to be a part of this next chapter with you. Locals want to return to their 'normal' lives and eat good food!
So let's welcome your guests back together. When spring is in the air, people look forward to getting out again. One of the best places to gather is around the table – your table! Table linens create a clean, sanitary space. Chill in the air? No problem. Blankets are a perfect solution.
When you choose Bergen Linen, you choose reliable and consistent service. Even if you still are under contract, take a few minutes to speak with one of our representatives. They can provide pointers on how to transition and answer other question you may have. At Bergen Linen, we never want a client to feel 'trapped'. It's why all of our agreements are transparent.  There are no hidden fees or surprises.
Call (800) 789-8115 or email info@bergenlinen.com to learn more about your options. Continue to stay on top of the latest industry trends by following your local organizations and following us on Facebook!