The Beauty of a Bistro Napkin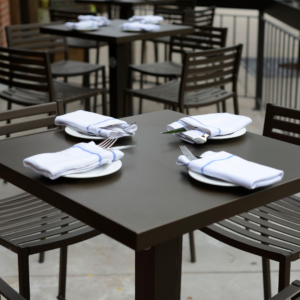 Let's talk about the beauty of a bistro napkin. While it may be a simple stripe, it definitely adds a little something to the ordinary napkin. Not that we think there is anything ordinary about table linens.
For the last few years, you may have noticed the growing popularity of the bistro napkin.  They are the perfect compromise between a formal napkin and a paper version.  Elegance without the formality.  They look a bit like a wash or  tea cloth you may find at home. Therefore, they are often found more appealing to customers – and certainly stick out in their minds. Although on the more casual side, the cloth napkins are elevated just enough to make the right impact.
At Bergen Linen, we appreciate tablecloths and napkins. We understand the importance of them in the restaurant and catering scene.  In studies, it shows that guests equate linen cloths to a higher level of service and food. (Additionally, a linen table cloth adds an extra level of protection.)
For more casual restaurants, tablecloths may not seem like a necessity. However, you may wish to consider a cloth, bistro napkin and a placemat; they are a nice substitute. Of course, these cloths hold up all on their own as well. And they are affordable!
When considering switching your linen provider, the stress becomes real. Bergen Linen understands your day and doesn't want to add any pressure. With Bergen, there are no surprises. Take a few minutes to email or call with your specific needs and any questions. A team member would be happy to address any concerns and provide pricing. Email info@bergenlinen.com or call (800) 789-8115 today.