Rent Chair Covers and Sashes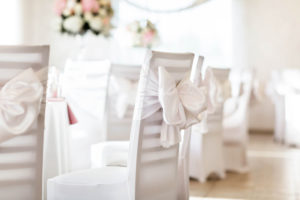 Rent chair covers and sashes today. At Bergen Linen, we understand that preparing for a special event can be stressful and time-consuming.
As a trusted local linen company, restaurants, country clubs and caterers choose Bergen Linen.  However, DIY party planners and professional event designers are also welcome to our large selection. In New York and New Jersey, we are known for our high quality linen rentals including tablecloths, napkins, overlays, runners, table skirts and more.
In addition, Bergen Linen also offers chair covers in classic colors and colorful sashes. Mix-and-match as you wish! Visit our Pinterest page for inspiration.
Additional Event Linens:
White tablecloths
Black tablecloths
Party Linen Selection
Napkin Rentals
Table Skirts
Overlays
Runner
Chair Covers
Chair Sashes
In addition to our party table linens, you may also want to ask about our pick-up and delivery options. When you call (800) 789-8115, you can connect with one of our team members. Allow them a moment to walk you through your table linen options.  If you prefer email, you may also reach us at info@bergenlinen.com.
"I'd like to compliment your company for the excellent service you provided me….Your professionalism and ability to get me the linen in an expedited time frame ….Such a commitment to great customer service is to be commended."
Along with our linen services, Bergen Linen wants to provide some inspiration. Are you following us on Instagram, Facebook or Pinterest?  Follow to find some great ideas. and tips  Event linens are ideal because of their versatility. Here are some of our favorite themes and color schemes to create:
Rustic
Pretty in pastel
Bold and bright
Classic black and white glamour
Again, we kindly invite you to give us a call at (800) 789-8115 or email info@bergenlinen.com to learn a bit more. By all means, choose the right linen provider – and know you (and your event) are in the very best of hands.