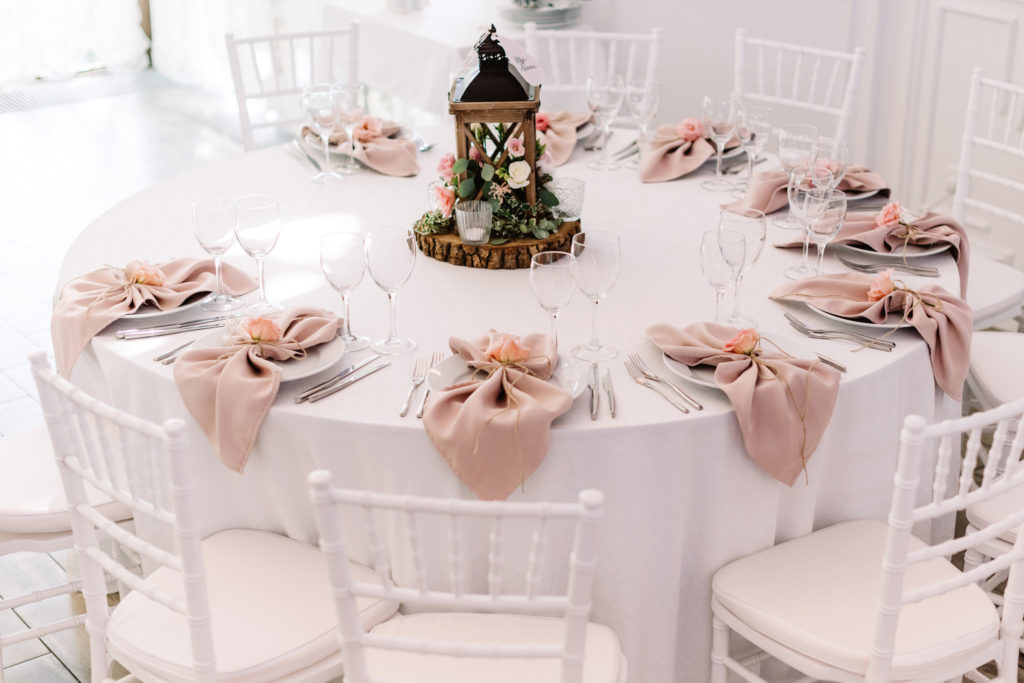 Wedding rentals are one of Bergen Linen's specialty services. Along with the food and beverage industry's day-to-day table linens, there is often also a need for party rentals including tablecloths, napkins and more. (These table linens are also available to rent by professional event designers and DIY couples. By being based in Bergen County, we are conveniently located for our friends in New York City, Queens, Brooklyn and North Jersey.)
There are so many elements that must come together to create such a special day. Banquet linens can sometimes be an afterthought. However, they are an important element for any event tablescape. We like to stay on top of the latest trends so that our inventory reflects the colors you are looking for. Feel free to call and speak with a Bergen Linen team member at (800) 789-8115. If you are ready to place an order, you can use our party linen request form or email orders@bergenlinen.com. (Questions about table linen sizes? Check out our table linen measuring guide.)
At Bergen Linen, we do our best to simplify the ordering. Often, a venue offers a few choices of event linen rentals; they are typically black, white and cream. You may wish to add a pop of color…or more. In addition to bold and pastel hues, we also have your forever classic neutrals in textures such as damask. With an outside linen company, you also open the door to additional party linen rentals such as chair sashes and more. Wedding linen rentals are part of your perfect dream reception. Take a peek at some of our linens hard at work.
Wedding linens include:
Tablecloths
Napkins
Overlays
Runners
Table skirts
Chair covers & sashes
Your Wedding Rentals Tips:
When designing your special day's space, you may wish to bring a few swatches to your venue. Hold a few different shades against their walls, chairs, etc. You do not have to match to their decor, but you will most likely wish to compliment it. Remember that lighting will also have an effect on color selections. Of course, chairs can easily be covered with spandex chair covers. Then, add a colored sash of your choice. The possibilities are pretty much endless.
If possible, place your order sooner rather than later. Reserving in advance will guarantee availability. (Of course, many rush orders have been fulfilled by our accommodating team.) When placing a napkin rental order, we always encourage you to add a few extra to your order. In the industry, it is a well-known fact that napkins find their way into the hands of servers, etc. It is always better to ensure that all of your guests have one. Furthermore, they are inexpensive so why risk the chance in running low?
Need a little inspiration? Find Bergen Linen on social media and don't forget to tag us in your future events. Come have a look at some of our past parties.