Table Linen Sizes

This quick guide to linen sizes is your reference tool for restaurant table linens.  Bergen Linen understands how placing a linen rental or sales order can be tricky.  If this is your first time ordering, it can be downright confusing.  (Additional tips can be found  on our How To Measure a Tablecloth guide.)
 Please know that you are always welcome to call and speak with one of our team members.  In addition, you may  also review our handy table linen rental guide below.  You will find suggested tablecloth sizes and drop options.  (The drop refers to how far the table linen falls from the table to the floor.)  For example, a longer drop is typically used at more formal events.
Bergen Linen offers delivery options in the New York (Manhattan, Queens, Brooklyn, Westchester) and New Jersey (Bergen County, North Jersey, Central Jersey) region. You may also opt to pick-up linens at our Hackensack location as well.  To make arrangements, please call (800) 789-8115 or email orders@bergenlinen.com. We also have a handy party linen rental request form.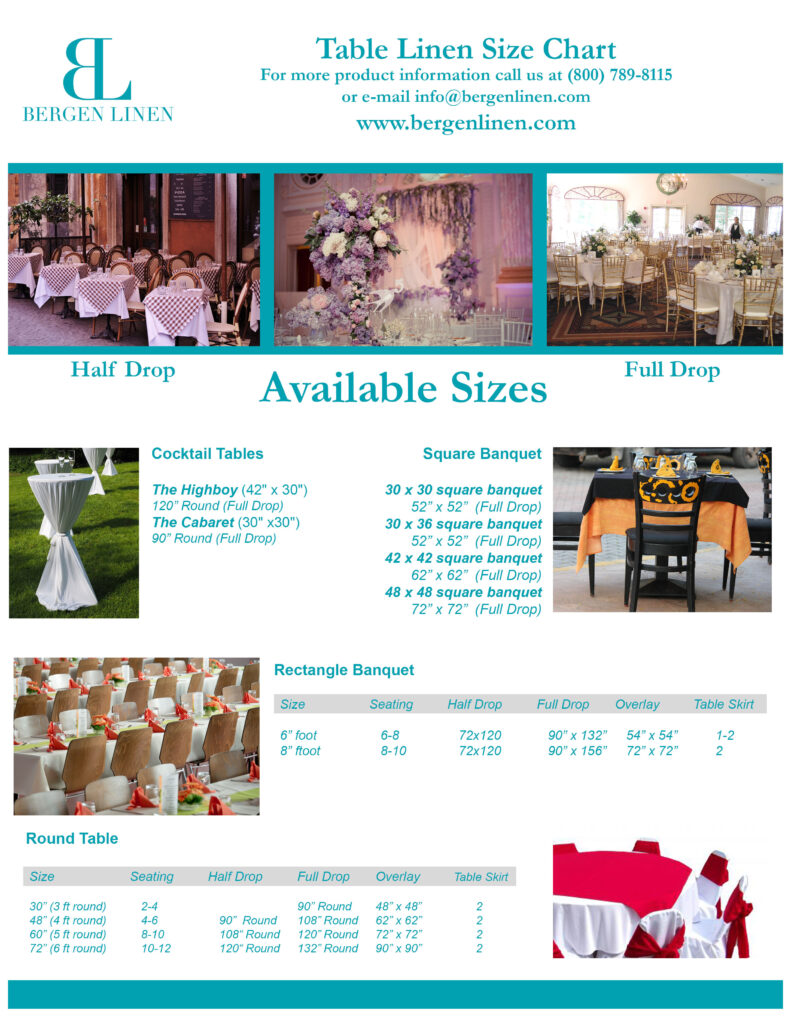 Linen rentals and sales are both available.  DIY party planners and event designers are also welcome to event  linen rentals. For a better review of our selection, we do invite you to speak with someone today or emailing info@bergenlinen.com.  If you are ready to place an order, please email orders@bergenlinen.com.  A team member will respond in a timely manner.  While Bergen Linen's office hours are Monday through Friday, emails  and voicemails are monitored throughout the weekend and off-hours.
Along with tablecloths and other restaurant linens, we also provide uniform apparel. Chef wear and restaurant staff uniforms are another part of the experience.  At Bergen Linen, we like to consider ourselves a one-stop shop for the food and beverage industry's linen needs.