Think Green…and Then Act.
You have to think green…and be eco-friendly.  At Bergen Linen, we take our responsibility to the environment very seriously. As a Hallak company, we strive to make continuous efforts to bring the newest in enviro-friendly technology to benefit both our customers and the Earth.  The Hallak family understands the importance of protecting our community – including  Manhattan, North Jersey and Central Jersey.
Earth Friendly Measures: 
Cleaning solvents are recycled through state-of-the-art filtering and distillation equipment to meet EPA standards.
Bergen Linen meets and exceeds clean air and safe water standards.
Our team recycles paper and cardboard waste.
Completely safe and responsible method to collect and dispense any  waste.
Utilize the latest non-petroleum dry cleaning solvents.
Assessed and updated our facilities to take advantage of energy efficient lights.
Did you know Hallak Cleaners (our sister company) received a very special award from NJDEP?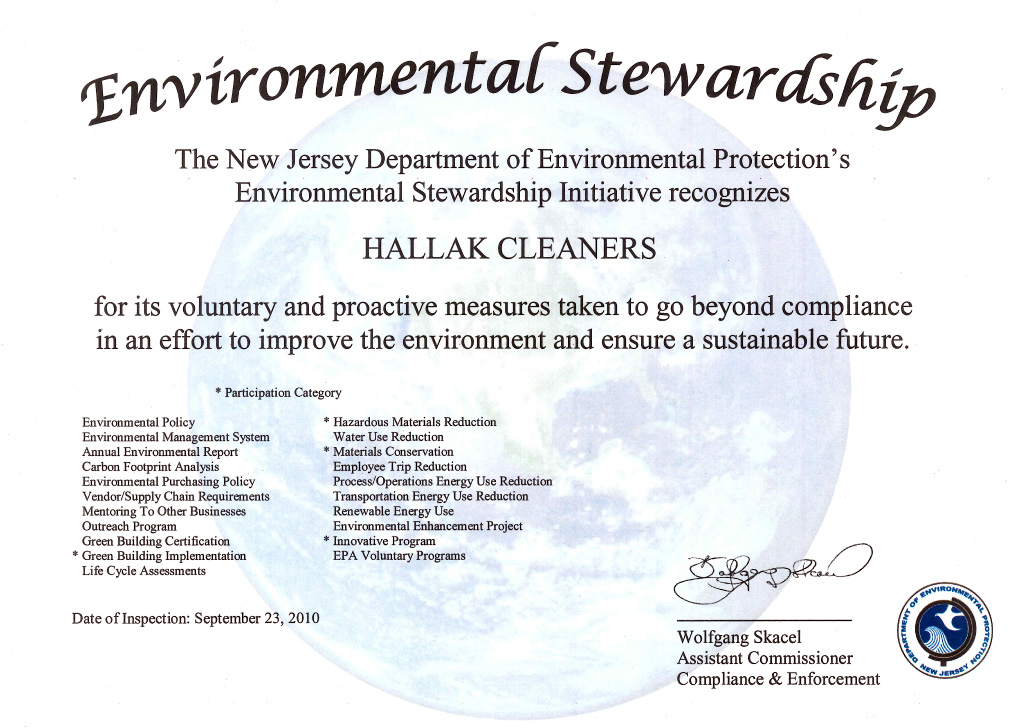 Hallak Cleaners was one of the first Green Earth Cleaners in the Metro area.  As technology continues to make strides, we take great pride in staying knowledgeable on the latest equipment and solvents available.    Visit  GreenEarth to learn about one of our favorite eco-friendly processes used on-site.
eWhen it comes to commercial applications, we are all aware of how important is becoming to be "green" over the last decade or so.  While it is important to be enviro-friendly, we also want to make sure that you are not be shorted in cleanliness.  We go through extensive measures researching in new solvents, products and equipment  that really provide the most optimum results.  Establishments choosing linen rental are also doing their part.    Along with having your tables looking great, you are also doing your part to reduce paper waste. In addition, retired table linens are often donated to local animal shelters.
Questions? Please call (800) 789-8115 or email info@bergenlinen.com.