First Week of Fall 2019 Check-in
Prepping for this season's events.
With this being the first week of fall 2019, the Bergen Linen team thought this would be the perfect time to check in with you AND your team.  Although Autumn has officially begun, it certainly feels like summer.  It is actually an ideal time because your decor can fall into either seasonal category.
The most important thing to keep in mind is all those upcoming events and holidays.  While those events may seem far away, you know they will be here before you know it. Will you be ready?  This is the time to take a look at your current everyday linens.  (And also plan ahead for any specialty orders.)  Did you know Bergen Linen also offers various colors and textures? From the obvious to the more subdued, we are here for you and all your linen needs.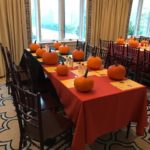 When you think of fall, what colors do you think of?
Orange
Tan
Gold
Chocolate brown
However, 'summer' certainly seems to be sticking around.  Therefore, you can certainly still request more warm weather like colors. (And of course, there are really no actual rules to all of this!)
Looking for a little fall inspiration for your table decor?  We love Pinterest.  They provide great examples of decor for a restaurant's daily ambiance  or for those special milestone parties.