Latest New Offering –
New York and New Jersey Blanket Rentals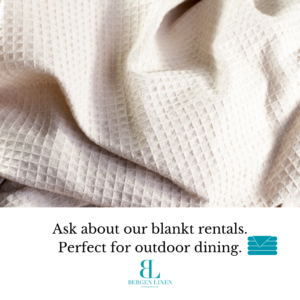 Blanket rentals are Bergen Linen's latest offerings. They are the perfect addition for your upcoming delivery – or schedule a stand-alone order.
During this last year, Bergen Linen faced challenging times with the rest of the Food and Beverage industry. We pivoted alongside all of our neighborhood friends. And looked for new ways to be there for you.
With nor and/or reduced indoor dining, there is very limited requests for tablecloth deliveries. However, it is important to mention that studies show diners equate table linens with a higher level of experience and food. On the fence? Consider a cloth napkin or placemat – and now blanket rentals.
For customers no longer using linens, we introduced the Starter Package. This is simply a quick weekly order for aprons, bar mops and floor mats. (This is a customizable package so as to fit your needs.)  Chef wear and uniform rentals are also available.  Both New York and New Jersey casual and formal restaurants love the ease in our uniform care. Keep your team looking and feeling their best. Impress your guests today!
With winter upon us, Bergen Linen knew they had to keep evolving with the times. Outdoor dining in cold temperatures? Blanket rentals! They are a simple and easy way to keep your guests cozy. Even if only a select few diners request them, it is important that you have that option. In today's world, it is all about accommodations, safety and comfort.  We would like to think that we are able to deliver all three.
Schedule your order today. Get to know Bergen Linen better by visiting us on Instagram, LinkedIn and Facebook.