October  Highlight on the Bib Apron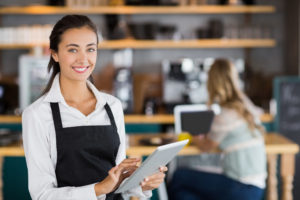 Bib aprons! This month's product spotlight. When you think of an apron, there are many images that come to mind.  This even applies to the more specific 'restaurant apron'.
Without going into the history of this simple garment, the use has pretty much always been the same. Aprons are used to protect the clothing underneath. And in the food and beverage industry, this is a necessity!
As a business owner or team member, you understand the importance of keeping a tidy appearance for guests.  When working with food, this can be a little tricky; hence, you have the almighty apron!
THE BIB APRON
 They provide the most coverage as they often fall to the knees or below.
Typically, there is a square neckline with adjustable neck straps.  A tie waist provides a secure fit.
For example, bib aprons are commonly found on:
wait staff
line cooks
dish room staff
Therefore, these aprons are typically made of polyester or a cotton blend. (Waterproof or water-resistant materials are better suited for dish room staff to provide protection against splashes, etc.)
Do you currently provide clothing protection or are interested in learning about the different types of aprons Bergen Linen offers?  A team member would be happy to walk you through your options.  For some businesses, you may require one type. Other clients prefer to have a few different types to suit the various departments. We also offer chefwear and other uniform rentals.  Call (800) 789-8115 or email info@bergenlinen.com today. And ask about your bib apron options today.