Learning how to fold a napkin with silverware quick and easy will save your team time. While there's an art of napkin folding, you fortunately only need a little time and a few items.
At the heart of exceptional hospitality lies the attention to detail and this includes your finely folded cloth napkins. Silverware neatly enveloped in a linen napkin not only enhances the aesthetics of your dining establishment, but it also reflects your team's dedication to providing the best experience possible. In addition, they make setting a dinner table faster. (Plus, you can stack napkin rolls to take up less space front-of-house.)
Let's dive in so you can start dressing up those dinner parties! Whether you choose classic white ore color napkins, a napkin fold is an elegant touch for a formal table setting.
What You'll Need
First, set up a space to work on your napkin folds. Many restaurants and country clubs choose to take care of items like this prior to opening. Therefore, an empty table can make the perfect workspace.
You'll then need your quality linen napkins and silverware. And then a few team members who are ready to start folding.
How to Fold a Napkin with Silverware 
Classic Fold

Here are step-by-step instructions for a classic fold that will hold your silverware:
Lay your linen napkin flat on a clean surface.
Create a triangle by folding your napkin in half diagonally.
With the longest side of the triangle closes to you, place your polished silverware close to that inner-edge.
Fold either side of the triangle so that your silverware is covered.
At this point, your napkin will look like an open envelope. Starting at the longer edge closest to you, roll your napkin towards the smallest edge (the 'envelope flap'). And you're set!
Wasn't that easy? If you prefer your silverware to stick out a bit, then please take a look at another folding technique below.
Silverware Pouch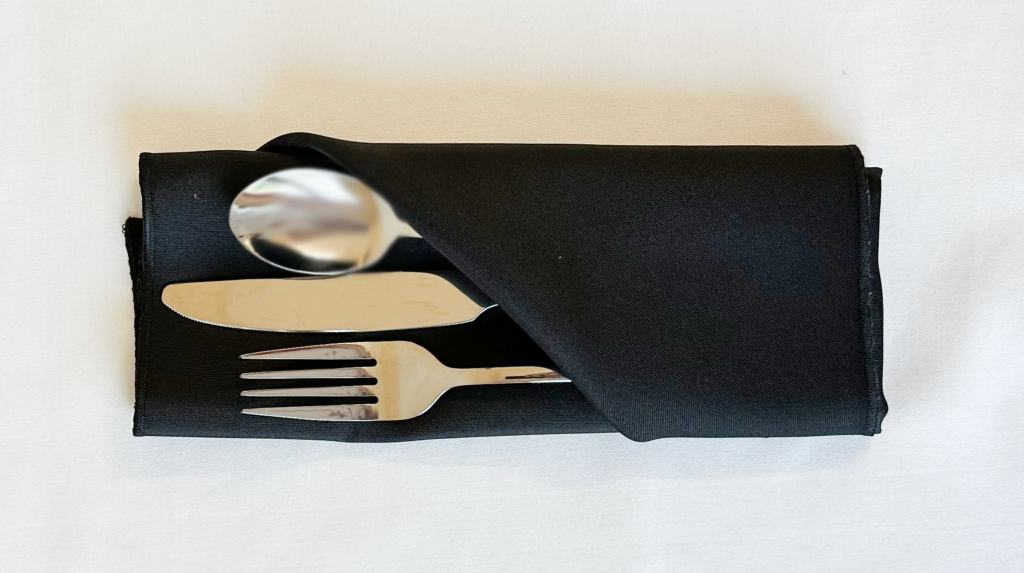 On a clean surface, start with a flat napkin.
Fold your napkin in half towards you; this way the 'open' portion is facing you.
Now, fold again so it's in quarters.
Shift your napkin on the flat surface so the open corner is facing away from you (and to the left).
Take the top layer of the napkin (still in quarters) and fold in half diagonally.
Turn your napkin over; the open corner should now be on the right.
Take the right corner side and fold it back about 1/3 of the way. Press it down.
Take the left corner side and fold it back about 1/3 of the way as well. Press it down.
You're almost done! Flip your folded napkin over. Straighten out any 'off' edges. Then, tuck your silverware in.
While this technique is a little more complicated, it's the kind of task that becomes much easier (and faster) with repetition.
Additional Tips for a Perfect Napkin Roll
If you are looking for quality looking silverware rolls, then take a look at these few extra tips.
High-quality, clean, and freshly pressed fabric napkins. Whether you are caring for your napkins or trusting a linen rental company, it's important to start with good product. Once unfolded, all those imperfections will be exposed. So make sure your napkins are guest-ready prior to any folding.

Clean and polished silverware. Pro Tip – Before tucking your silverware into your napkin, give it a quick rub with an extra, spare napkin. When ordering your linen rentals, you'll most likely have a few extra. These extras are perfect for a task like this.

Consistent folds. By taking a few minutes to train staff, you'll be able to show the end result you are looking for. Uniformity will create a much better presentation.

Add a little music. If you are preparing for a large event or evening rush, there may be a large amount of napkin folding needed. While not difficult, it is repetitions. So have a little fun. Put on some good music and let your team make the most out of this responsibility. If possible, there should be some level of Quality Assurance.
Add a Special Touch
Your guests expect and deserve all the little details. And while a clean fresh napkin is an obvious, let's take a step further. Although folding a napkin can take a little time, you will save time in the end. Plus, your tables will always be uniform and ready to impress.
If you are interested in clean, quality linen rentals, please request a quote today.