Discover all the expert corporate event planning tips on how to plan a corporate event so you can stop stressing – and not miss a detail.
As your dedicated partner in crafting flawless corporate events, Bergen Linen understands how one of these gatherings can serve as a powerful platform for networking, knowledge exchange, and brand promotion. They are also a perfect way to ring in a holiday or other special occasion!
Impeccable table settings and decor play a pivotal role in defining a polished experience. This guide is designed with you in mind. Allow us to equip you with the essential insights and tips needed to plan and execute your corporate event.
Types of Corporate Events
Before any planning starts, there are two defining factors you must need to know: 1) the type of event (event objective) and 2) the budget.
When it comes to a business, there are plenty of reasons to gather so let's take a look at some of these types:
Conferences: Business conferences are large-scale events that bring industry professionals together; the main goal can intended for networking, education or collaboration. Often, these events feature keynote speakers, workshops, and panel discussions. Attendees look forward to learning and sharing industry insights with one another.
Seminars and Workshops: For a more intimate gathering, a company may host a seminar or workshop. They are designed for in-depth training, skill development, and ongoing training. These types of events provide an excellent platform for professionals to enhance their expertise in specific areas and are often led by subject matter experts.
Product and Service Launches: If a company is launching a new product or service, a launch event can be a real game changer. At this event, products and/or services are showcased to an audience (and hopefully, press!) with the intention in generating buzz and excitement. Attendees may include target market, press, potential investors, etc.
Annual General Meetings (AGMs): A more formal gathering (and sometimes less fun) is an AGM. Here, a company communicates financial results, strategic plans, and corporate governance matters to shareholders. These events are the perfect place to provide transparency and forecasting with company stakeholders.
Employee Appreciation Events: Employee appreciation events are probably the most fun parties a company can host. Think awards ceremonies, team-building outings, milestone celebrations, and holiday parties! It's the perfect way to recognize and celebrate the hard work and dedication of employees. Besides being a bit more laidback and fun, they also promote a positive work culture and boost morale.
Networking Mixers: A networking mixer can be part of a larger event such as a conference. Or it can be a smaller standalone event. Attendees can connect, exchange ideas, and explore potential partnerships.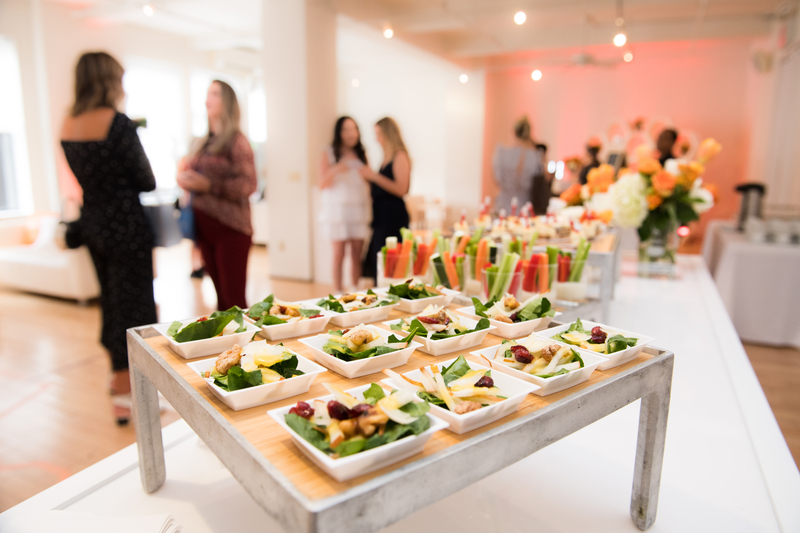 How to Plan a Corporate Event and Make It a Memorable Experience
Now that you have the type of event defined and some type of realistic budget, it's time to start planning! And whether you are a corporate event planner or appointed to the event planning team, there is still the question of, "Where to start?".
From selecting the right linens to coordinating seamless setups, we are here to support your vision and ensure that your guests are met with an environment that speaks volumes about your commitment to excellence. First things first, you wanted to know where to start. Well, it all starts with a helpful checklist (or two).
Pre Corporate Event Planning Checklist
And the countdown to your corporate event has begun. By working your way down our pre-event checklist, you can be assured that nothing is left to chance. From defining your objectives and budget to finalizing logistics, these check points will help you stay organized and prepared every step of the way.
This is a good time to share with you the ugly truth. As with any large gathering, things may not go as planned. Even with every detail in place, weather or supply chain issues may cause a hiccup. Therefore, you should go into event planning ready to bend or pivot as needed. But for now, let's think positive. A slight wrinkle isn't going to throw off your gathering – and you'll probably be the only one that knows things went a little off plan.
Event type

Decide on type (see above)? Formal, casual, seasonal, etc.

Budget

How much will be needed for vendors and how much can you do with volunteers

Date and time

Breakfast, brunch, lunch, or dinner

Guest list

Create list of your target audience and how to manage RSVPs
Once RSVPs are confirmed, you will need to work on seating arrangement

Corporate Event Venue

Choose after a guest list has been determined

Event theme and branding

Define theme and branding elements to include

Event itinerary

Event schedule that includes set-up, teardown, any special speakers or other entertainment

Permits and licensing

If you are new to event designing, be sure to have all the necessary permits and licenses that may be needed OR ask your venue for help with these items

Vendor research and selection

Linen rentals: tablecloths, napkins, runners, overlays, and chair covers
Audio-visual equipment: check if additional equipment is needed; this may include technology and wi-fi connection
Signage: design and order signage for proper (and professional) branding
Name tags and badges: use RSVP list to prepare name tags in advance
Promotional items: promo giveaways, printed programs, brochures, and other items should be designed and ordered way in advance
Photographer and/or videographer: we can't stress this enough – hire a professional
Parking and transportation: some events may require parking or transportation arrangements

Registration desk

Prepare to have an area for a registration desk that includes materials and staff

First aid kit/emergency services

Depending on the type of event, you may wish to consider having some first aid and/or someone on-hand for any emergencies that my occur
Corporate Event Planning Setup Checklist
As part of the event planning process, this list will vary and be dependent on the size and type of event. More formal or larger events will end up having a much more detailed breakdown. For now, we'll provide a few examples for each one to help with your planning process – and maybe give you some ideas.
Decorations

Floral arrangements and centerpieces
Party linen rentals including chair covers, tablecloths, and napkins
Branded signage

Furniture

Lounge area – sofa, table, and lounge chair rentals
Conference – long tables and chairs
All day training session – attendee tables, buffet stations

Stage and podium

Stage, podium and microphone set-up that will go hand-in-hand with your audio-visual set-up

Step-and-repeat

Perfect for product and service launches

Audio-visual check

Important for any type of event for seamless entertainment or speakers

Food and beverage

Buffet stations, staff for sit-down dinners, bartenders, and actual catering
On-Site Corporate Event Planning
You're almost there! Using the "Event Setup Checklist" above, you can easily break down what teams are needed. Who should be doing what allows you to delegate so you're not responsible for EVERYTHING. By selecting professional vendors and amazing volunteers, your event will be in the best hands possible. Make sure they have access to you so things can continue to progress as needed.
Event staff

Define roles and responsibilities from staff to volunteers

Emergency plan

Devise an emergency plan and communication chain

Speaker, entertainer, and presenter schedule

Assign a team member to ensure everyone is prepared and on-schedule

Registration desk

Create a space for check-ins and inquiries

Feedback

Provide a way for attendees to share feedback
Post Corporate Event Planning Responsibilities
You did it! You've hosted a successful event. Sure, there may have been a few stressful moments but it was well worth it. And everyone had a great time. Even though your event has concluded, the work is not quite over. Let's properly wrap up with these essential tasks. Gathering feedback, reconciling the budget, and saying 'thank you' for all those helped along the way should be the main post party planning.
Thank you notes

Send thank you notes or emails to all attendees and sponsors

Budget reconciliation

Collect and review all receipts and invoices

Follow-up

Read through collected feedback and speak with attendees
Follow through with any post-event actions
Choosing the Color Scheme for Your Corporate Event
Determining the right colors for a corporate event can be a huge decision. From the marketing material to the decorations, your chosen colors are going to significantly impact your whole event.
When deciding, consider choosing a color(s) that will reflect the nature and event's objective. Formal business conferences or an AGM will typically incorporate a more classic, sophisticated palette such as navy, charcoal gray or black; these colors effortlessly convey professionalism and trustworthiness. Holiday party? Then, let's be a little festive. Gold, silver, red, royal blue, and green are great options!
If possible, you can try to align your party palette with your brand colors. However, this may not always be possible or necessary. However, be sure to use your logo to help brand your event; this reinforces brand recognition. We also suggest taking a look at your venue's existing color scheme, lighting, and time of event. By considering these factors, you'll be sure to choose the right palette that will resonate with your audience and make for the perfect experience. And fortunately, Bergen Linen offer a wide selection of linen rentals. There's a shade or 3 perfect for your next corporate event.
Choosing the Right Vendor
If your new to party planning or working in a different event space, choosing the right vendors can initially feel quite overwhelming. It's stressful for the right reasons. Choosing the right vendor is a critical decision that will impact your event's success.
It all starts with research and this can include word-of-mouth referrals. Gather information from your trusted colleagues, online reviews, testimonials, etc. Be sure to select vendors that seem to have a reputation, track record, and experience with the type of event you'll be hosting. Vendors with a proven history and are familiar with a corporate event's unique demands will help you along the planning stages.
Review their portfolios. Ask questions. Take note on how responsive and attentive they are. As the event gets closer, you'll be happy you chose a vendor that acts fast and makes your corporate event a priority. Whether meeting in-person or having a virtual consultation, get a feeling of how you will work together. Are they listening to your needs? Do they seem to understand your unique needs? And if you are confused on any item, are they able to clearly explain in a way that you can make an informed decision?
Ideally, proposals should be detailed. They will outline their services, pricing, and any potential additional fees. While contracts can be text heavy, it is important to read them thoroughly. By reviewing, you will have a clear understanding of their contractual terms such as the cancellation policies, liability coverage, and other important information.
Select vendors that you confidently feel with align their services with your corporate event.
Let's Start Planning
Hopefully, these corporate event planning tips have made you feel empowered and less stressed. Planning a corporate event demand a meticulous attention to detail.
As a linen provider, we are fortunate enough to work with individuals, event designers, country club F&B directors, and restaurant managers designing special events. We provide a small part of all the elements of a corporate event. However, it is all those elements that come together to make a party a success. So we take this responsibility very seriously. That's why you will only receive guest-ready table linens, which are sure to impress. We hope we have answered your question on how to plan a corporate event so you can begin planning confidently.