What do your restaurant linens say to your guest?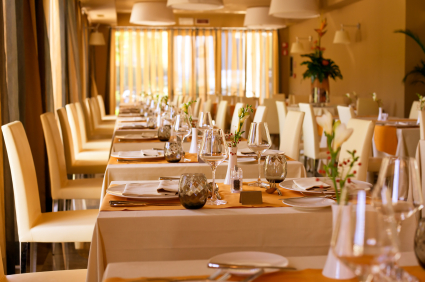 When running or owning a restaurant (or catering hall), it is imperative to pay attention to every last detail. From your meals to the ambience, you must leave a positive impact on each guest.  We understand you only have one chance to make a first impression which is why we take pride in our linen services.  Your restaurant's linens will be returned spotless, crisp and pressed to impress.   Bergen Linen offers linen rentals, sales and laundering of customer-owned goods.  Special events may require additional choices beyond your day-to-day linens.  Please ask about our party linen rental services or try our Party Rental Request form.
Step by step, we can assist you in presenting your establishment at it's finest starting with your host/hostess' uniform.  After being greeted, your guest will then be seated at a table highlighted by your fine table setting.
Call (800) 789-8115 today and ask about our various restaurant linens including:
Table Linens
Server Apparel & Aprons
Chef Apparel
Kitchen Accessories
If you prefer email, simply email info@bergenlinen.com.  Our regional sales manager will be happy to answer your questions regarding items serviced, route schedules and custom orders.
Don't forget to visit our other pages that you may find useful!
Does your restaurant or catering venue require some TLC? Our team of commercial cleaning experts will help keep your restaurant's interior looking it's best with services such as upholstery and rug cleaning.
Interested in personalizing  your staff's garments such as a chef jacket? Please visit our embroidery page to learn more.