September 2020 New York Restaurant Indoor Reopening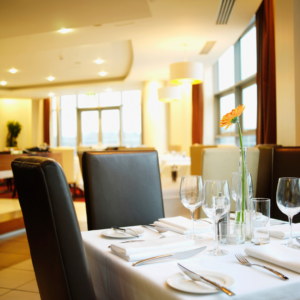 In about a week, the area is looking forward to the September 2020 New York restaurant indoor reopening. The decision is met with excitement, questions and some concerns.
Throughout the lockdown, Bergen Linen has been right here with you.  And now with some 'normalcy' returning, we will be there for you.   Create  a safe space for guests. White, fresh linens on your table will provide a clean dining experience. If you have not used linens before, you may wish to reconsider adding this extra layer of protection. Quality linens are affordable and elevate a diner's experience. If you have already been using linens, you may wish to take a look at your past orders to figure out upcoming orders.  Questions? Call (800) 789-8115 or email info@bergenlinen.com to learn more.
When socially distanced tables are not in use, try our custom (with your logo) "Reserved" tent cards to retain your ambiance – but still meet safety standards. In addition, we also offer linen placemats for venues that are not ready to jump into a full tablecloth experience.
While we will all be navigating this together, it is important to take steps in preparing now. The New York restaurant indoor reopening will be here before we know it. Give us a call today! A team member will be happy to discuss your options with you.