Outdoor October 2020 Dining Still in Full Force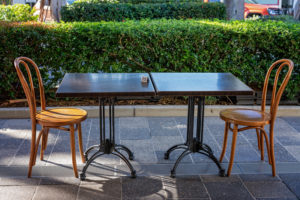 Outdoor October 2020 dining has weather on its side.  Even so, many businesses are preparing for the cooler weather ahead.  Tents and heaters are perfect cool weather additions.
However, there are other items to consider as well.  Are you happy with your current linen provider?  If not, you should know that Bergen Linen is the best value in your area.  In addition to expert fabric care, we are passionate about our customer service.
Over the last several months, we have weathered through more downs than ups. Through that time, our team has looked for new ways to keep your businesses running smoothly.  It is important that both your team and community feel confident at your establishment.
Bare tables can look just that – bare.  If you use table linens inside, consider mirroring your restaurant's 'look' on the outside.   They look great and add a level of comfort.  If you have not used tablecloths prior, you may wish to try linen napkins.  Bergen Linen offers many styles to choose from.  Find your perfect fit today by calling (800) 789=8115 or emailing info@bergenlinen.com.
Bergen Linen clients' may also request complimentary "Reserved" tent cards. With your approval, we will add your logo to our heavy-stock  tent cards. They work perfectly with your socially distanced tables.