July 4th Events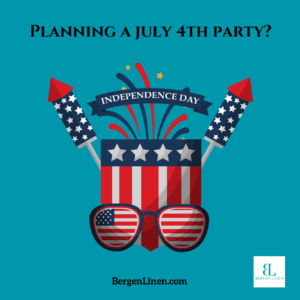 It is time for your July 4th  events prep!  Yes, it's already that time!.
Can you believe it's already the second week of June? While areas opened up so fast, it may have left you scrambling.  And although you may have not had time to 'catch up', let's take a few minutes to check your calendar.
At this time, your reservation and events calendar is probably full of weddings, birthdays, anniversaries, showers and other celebrations. Additionally, you also have your regular dining reservations.
When you think of July 4th? You automatically think of red, white and blue. And don't worry! We have these different holiday colors.  Keeping it casual? Consider rustic table decor with a  pop of color. Red napkins? Looking for something a little more formal? White, damask table linens with a blue napkin?
You will find an ease with Bergen Linen that you may not be accustomed to.  Our team is here to help you find the perfect combination or elements to suit your July 4th event needs – and vision.  Feel free to call (800) 789-8115 or email info@bergen linen.com.  You are always to schedule a complimentary walk-thru as well. And in the meantime, visit our Pinterest page for a little holiday inspiration!