2022 Valentine's Day Linen Order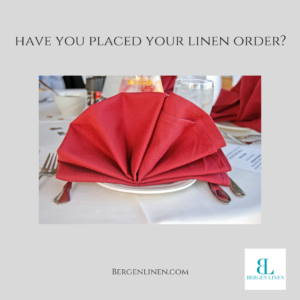 2022 Valentine's Day is two weeks away. Now that we have finished cleaning up this weekend's storm, it is the perfect time to start prepping for the upcoming holiday.
In a normal year, restaurants thrive the weekend of Valentine's Day. And this year, it falls on a Monday.
Therefore, you may experience the Valentine's crowd the weekend before or overflow into the week. Will you be prepared? Take a look at last year's and this month's reservations to have a better understanding of what rentals you may need. And then order!

Will you be treating customers to special menus, cocktails or desserts?  Consider adding some red or roses (or both!) to your day-to-day ambiance.  And how about a little mood lighting or background music? Find a little inspiration on our gallery page.
Why not treat your guests to something a little special? Are you linens typically black, off-white, white or ivory?  Add a fun pop of color by incorporating a red or pink overlay or napkin.  Bergen Linen is here to help you with your special holiday selection.
Interested? Place your linen order by emailing info@bergenlinen.com or call (800) 789-8115.